Where has the time gone? It has been an age since I have been on here and I must apologise. I didn't actually realise how long it has been. Life has been hectic; more so recently.
So what is the news from Lowton Landscapes? We are still here and are attempting to trade through these currently changing times.  As many other traders we are finding our way as we go to keep compliant with regulations and requirements. Some of this means that things are taking longer; we hope you understand that. It is, we hope, only until the world gets used to the new way of life.
The main issue we are finding at the moment is the procurement of materials. Hopefully this will improve as manufacturers return to work and stock levels get back to normal in time. At the present we will try to get the goods required to complete our works as soon as we can and we will keep you updated. When we know you will know.
We have been able to complete a few jobs recently this was the most recent: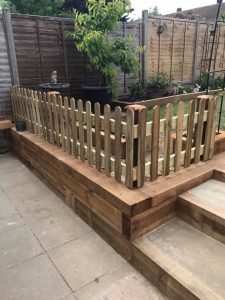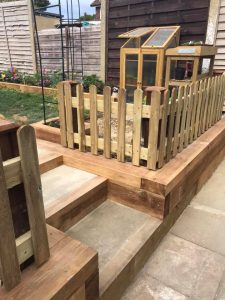 This made use of sleepers and picket fencing to make retaining walls, steps and raised beds.
Looking forward we are hopeful that if we all play our part we can overcome the problems we are all facing and get back to the new normal; embracing a new less hectic way of life. We fully intend to take more time to relax and not spend so much time rushing here and there. We are all guilty of not taking time to smell the roses.
We hope you all stay safe and well and look forward to transforming more gardens soon. If you have any landscaping requirements please get in touch and we will happily provide you with a free written quotation.